Welcome to our first ever Spotlight Saturday, where every week we will get to know a little bit more about the current month's featured designer.  Joining us this month is Sarah from Little Birdie Digital Designs.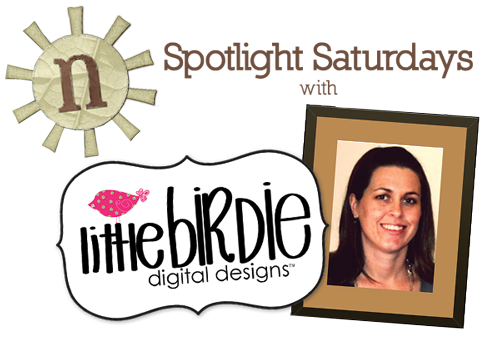 What's your name and your store name?
My name is Sarah Sullivan and my store is Little Birdie Digital Designs.
Sarah's store, Little Birdie Digital Designs, can be found here at NDISB.
Tell us a little bit about yourself…
I'm a former certified public accountant turned stay at home mom to an adorable almost 18 month old son who keeps me running all day long.  My sweet husband of nine years and silly Labrador round out our busy household in Wisconsin.  I'm surrounded by boys!  And that will continue to hold true as we are expecting another little boy in October!  Needless to say, creativity is my "me time", my escape.
Speaking of all those boys – if you have a few of your own, check out my kit "You are all boy" and create some pages dedicated to the boys in your life!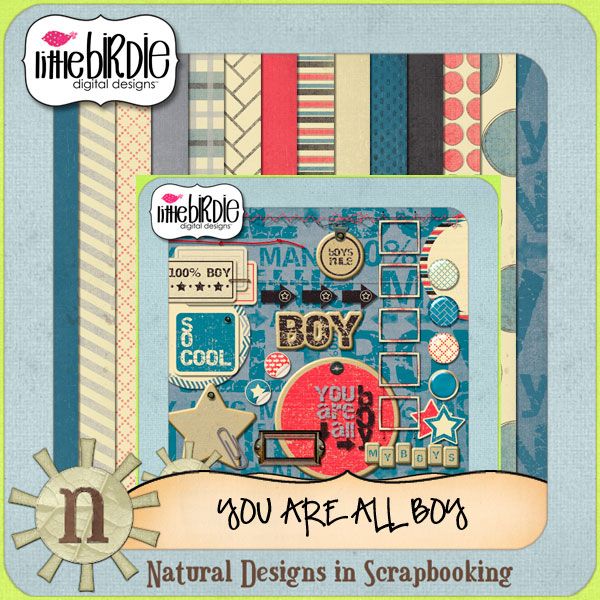 You can also learn more about me, my family, and my creative adventures on my blog at www.alittlebirdiescrappedit.blogspot.com
Do you have any hidden talents or hobbies you'd like to share with us?
I would say that digital scrapbooking and design is my hidden talent to most people in my life! Coming from the accounting background, most people find it hard to believe I have a creative bone in my body!
Where was the best place you've ever been?
While my husband and I have had a lot of fun traveling around Hawaii and exploring all the interesting sites there, I think one of the best places I've had a chance to go was wine country in the Portland area. It was just so fun to drive around and hang out at the quaint vineyards and sample wines amongst the gorgeous views.
Do you have any great summer memories to share with us?
Ah, summer. Living in Wisconsin you really must enjoy it while it lasts. I'm a pretty easy going gal so my favorite memories are times with family and friends enjoying the sunshine and perhaps some cool beverages. My husband and I have created a comfortable spot on our deck where we get late evening sun. I think many great summer memories have happened right there where we can relax and enjoy each other's company.
As a special treat, Sarah's store will be 40% off all month long! You really must check out her store. She's wonderful with patterned papers, and I love her vintage chic style.