Welcome to another Spotlight Saturday (except I've been sick, so it's actually Sunday, oops!). This month we are joined by the wonderful Sarah from Little Birdie Digital Designs. Little Birdie Digital Design store can be found here at NDISB.
Now, let's get started with this week's interview: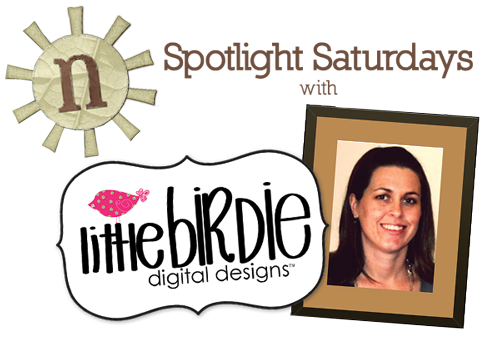 When did you start scrapbooking?
I started scrapbooking (the paper kind) in high school. It's so fun to see how things have changed in the industry as well as in my personal style. I like to look back at not only the photos but at how I've changed as a scrapper.
What would you say your scrapbooking style is?
Hmmmm…I've often struggled to define this because I think this really depends upon the subject that I am scrapping. I think I'm pretty whimsy with a touch of grunge. Yeah, I'm going with that.
Are you more of an event scrapper or do you prefer to scrap the day to day stuff?
I definitely used to be an event-only scrapper, but digital scrapbooking, as well as become a mother, has completely changed my view on that! I am so much more about capturing the everyday stuff over events. The events are there too, but they seem to take up less and less space in my ever-growing scrapbooks!
Have you ever tried a 355/52/Project Life style project? Would you call it a success?
No, I have not tried this. It's really not my type of style because I love all the artistic touches I can put on a full layout. I do think project life-type projects are awesome though because it's so important to just get the memories down. The closest thing I ever did was start a December Daily album and I made it to December 20th! Having a little man's birthday and Christmas in a short time frame meant I never finished. And it pains me to say I haven't even finished scrapping last Christmas! You can check out my December Daily journey on my blog, starting here: http://alittlebirdiescrappedit.blogspot.com/2011/12/december-daily.html
What's your favorite scrapbooking tip?
Just do it! Seriously, I really think that just getting the memory down is a great accomplishment. Then take it to the next level if you would like. But I'll give a better tip too…make a place to display your scrapbook. I find that leaving ours out in the main area of our house invites my family and visitors to take a look and share in our memories. It makes me more excited to continue to create new layouts!
I also think having some go-to tools that work with many kits is a great asset to sparking creativity. I love brushes for this reason because they provide a great base layer to any layout and I'm also excited about my kit "Clip.It. Accents v.1" which allows you to use these great accents for any page with any kit. You can check them out here:
Don't forget that Sarah's store, Little Birdie Digital Designs is 40% off for the entire month of June. So go check out those fun accent pieces and the rest of her very versatile products