Happy Saturday everyone. Let's jump right into it and check in with Pam of By The Shore Designs; she's got lots of fun things to share with us this week.
1. What do you listen to when you're scraping/designing?
When I remember to turn off the Disney Channel and add some mood music – I would have to say contemporary country or Jimmy Buffet tunes can be heard throughout my studio (and the rest of the house)
2. Are you more of a special moments scraper or an everyday scraper?
I tend to "scrap" special events and memories. I do however capture those everyday moments in my Project 365/Project 366 albums. This is my fourth year taking a "picture of the day" (potd) and I am pleased to say that my 2012 album is current. I contribute my 2012 success to a set of Quickpages I created
You can see my 2012 P366 layouts here – http://bytheshoredesignsbypam.blogspot.com/p/2012-p366.html
3. Have you ever tried a hybrid project? How did it go?
I have tried hybrid projects. It went well and it was such a great feeling to see my papers and elements used in a different way. I hope to try more hybrid projects in the coming weeks.
4. What's your favorite thing to create when designing?
I love to create patterns for paper and elements.
5. What do you prefer, gardening or cooking?
OK – that's a tough question (cut flowers and dining out are so much more fun) I do enjoy gardening. With the exception of my rose bushes, I have somewhat of a brown thumb. And I wish I had the passion for cooking that I see in others. I do however enjoy baking – and trying cute creations to share with others (think cupcakes for elementary school class parties)
Pam's got some really pretty paper sets I'd like to feature this week. The first is the Shades of Grey paper collection, that includes 18 patterned papers.
And the next is the Fresh Floral Fun collection with includes 20 patterned papers, all in bright spring/summer colors.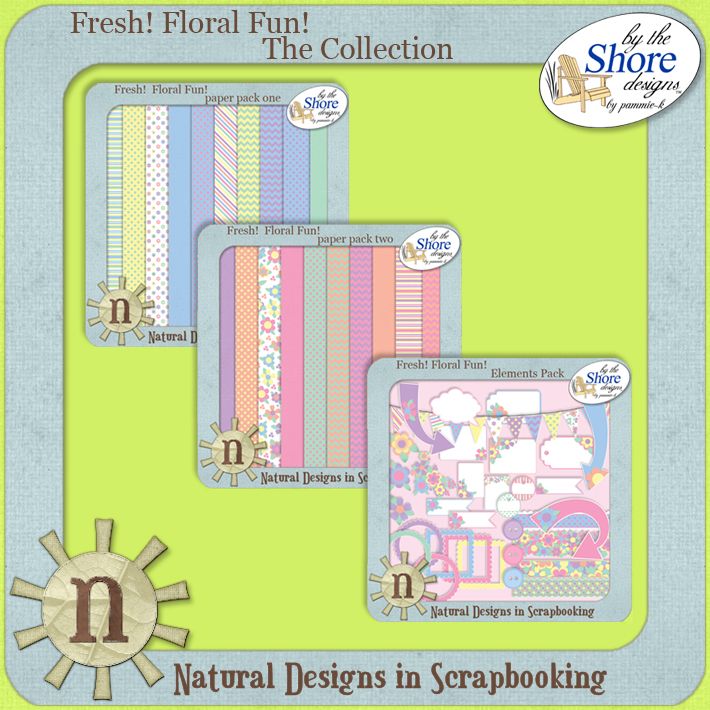 There's even a great freebie that matches this collection up on the Facebook page of By The Shore Designs. Go check it out
Just look at what you can do with those products: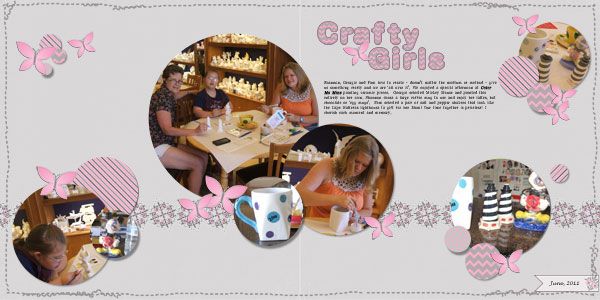 Pam has also passed along a coupon she'd like me to share with you. From now until the end of the month, if you use the coupon code SPOTLIGHT you will get 50% off her entire store. I think it's time to go shopping, how about you.