Challenge 3
Autumn Action
Most of my photographs are of my granddaughter who is almost always a moving subject. I'm sure that you experience this a lot with your favorite subjects also.
Here is a shot where we were trying on costumes but as soon as she would get one on and I would pick up the camera she would run around the couch and hide. She thought it was a great game.
You can see that the whole photo of her running is blurred, this is because I was shooting with a slow shutter speed 1/20 with an f/2.8. There are some cases where you want your subject to be blurred to show speed and movement, however that was not my intentions here, she was just faster
This was her idea of hiding from Grandma and has nothing to do with the challenge. It's just cute.
If you want to keep your subject sharp while blurring everything around it, use slower shutter speeds (or landscape setting on point and shoot cameras) and pan. To pan, move the camera with the subject to track your subject. Press the shutter button 1/2 way down to start the autofocus. Then while still moving with your subject, push the button all the way down when you are ready to take the photo. Keep tracking through the photo to make sure you don't stop before the exposure is complete.
If you want to freeze your subject's movement without blurring your image, you need a fast shutter speed, such as 1/1000. Depending on the light you will need to adjust your f/stop to a wider setting because you will be cutting down the light that comes in through your shutter.
Where do you adjust the shutter speed on your camera? Look for the dial on your camera that says TV (time value) or S (shutter). In either of these modes you choose the shutter speed and your camera will choose the aperture for correct exposure.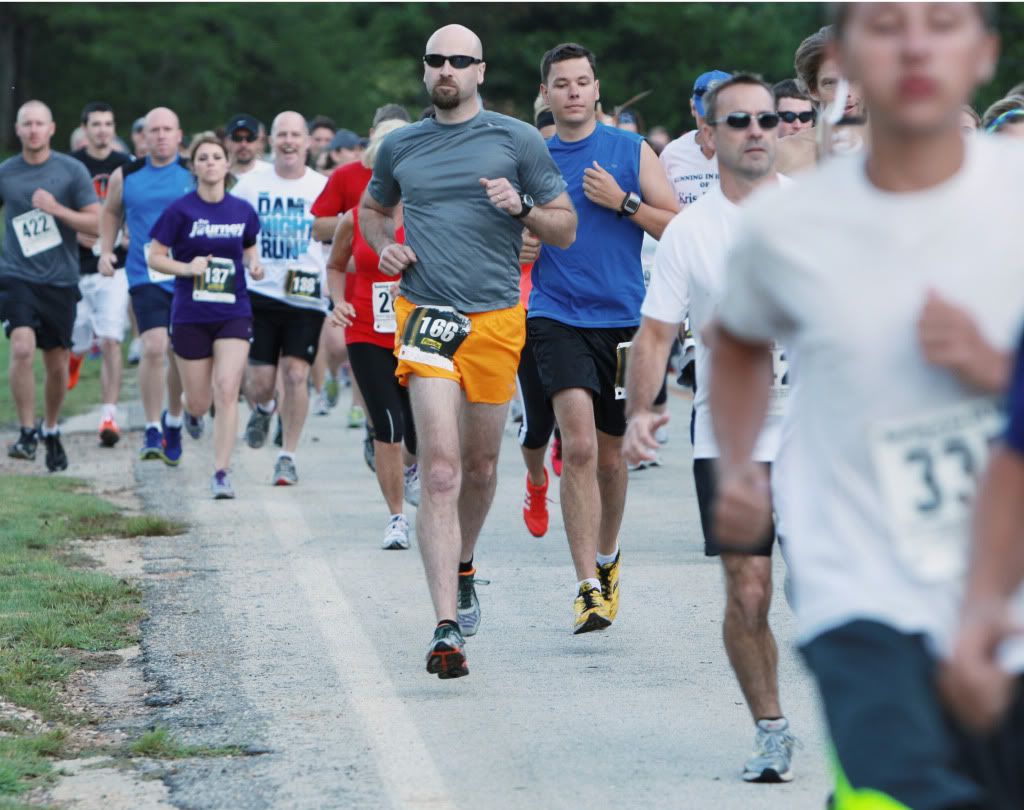 In this photo, I was focused on the runners in the middle and you can see that I actually was able to capture them frozen with their feet off the ground. I'm still trying to accomplish this, with one of my dogs, I have dreams of that cute shot with their ears flopping and all their feet in the air while running. Back to real life 
The runners were captured at 1/400, f/4, ISO 400. It was morning in a valley so there was not much sun yet, more the equivalent of a cloudy day.
So your challenge this month is to capture some action, either a freeze action shot like the runners or a shot where the subject is blurred and everything else is in focus. Then post it in the gallery with a link here to get your prize. You must complete the challenge and post by September 30th.
Happy Shooting!
This is the prize you will get for participating in the challenge.
Challenge 4
It's the 4th week of September already and I can hardly believe that October it just around the corner! 
This week I'm challenging you to journal again. I am not giving you a theme this time around, but I am asking that you have 2 lines of journaling on your layout. Think outside the box too. You do not have to just journaling what is going on, but maybe put a song or poem on the page instead. Nor does it have to be the whole thing, just a snipnet of the song or poem works too!
Here's your prize for this week, an alpha set to Autumn Wishes…
Thanks to Pamla and Marcie for these challenges (And don't forget that Pam and Chantal still have challenges out there for weeks one and two)  The challenge forum is waiting for you!
One more challenge for September will be coming next week.  Mmmmm…wonder what it will be.